I am a photographer. This is not my day job, but I have been in the industry for over 16 years.  As a photographer, I run into some preconceptions that I would like to help you sort out.
Photography is an art very similar to someone who paints. Photographers do not just take a picture and it's ready to go. We have to sit in front of the computer for hours sometimes, and there is a lot of work behind the scenes that takes our time away from family and other tasks. So when you see a quote from a photographer please know that it isn't just the hour or two we spent with you but also the editing time as well as other overhead like SD cards and DVDs along with the upkeep of our equipment.
I broke one of my good lenses at a wedding last year that put me out of business for the rest of the season because lenses cost well over $500.00.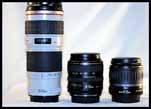 I have comprised a Q&A for you to consider next time you are in need of a good professional photographer.
Q: What advice would you give a customer looking to hire a provider in your area of work?
A: Choosing someone to photograph your wedding is one of the most important parts of the planning process. You should choose a professional who has been in the industry for a few years; someone who knows the ends and outs of Wedding Photography. Anyone can take pictures, but a Wedding Photographer can add value to your photos by bringing your story to life.
Q: What questions should customers think through before talking to professionals about their project?
A: You will need to already have a price that you are willing to spend in mind. When I sit down with a prospective client I ask them up front what their budget is, and how much they want their photography package to be. I am willing to work within their parameters and will design a package that we all can love. Do your research on the different style of photography and then search for a photographer that best matches that genre. If you like traditional then you do not want to hire someone who only deals with photojournalism. Although most photographers today can work in both types of media; it's best they know what you want before you hire them.
Q: What education and/or training do you have that relates to your work?
A: I am actively involved with  photo clubs where I can engage with other photographers and learn more about equipment and technique. I also teach photography now and in teaching, I continue to learn.
https://www.thumbtack.com/profile/services/j0lWE6Z6uxgZ4Q/edit